Marie-Thérèse Danielsson
This website is dedicated to the memory of Marie-Thérèse Danielsson, who was a writer, a pacifist, an environmentalist and an anti-nuclear activist in the Pacific. She was also involved, together with her husband, Bengt Danielsson, anthropologist and oceanist, in the emancipation of the Polynesian people from colonial rule. She was president of the Women's International League for Peace and Freedom in Tahiti and founding member of Moruroa e tatou, the organization of former Polynesian workers on French nuclear test site.
In 1991, Marie-Thérèse shared with Bengt the alternative Nobel Prize: Right Livelihood Award. Courageous, firm, clear-sighted, simple, and always smiling, she fought for more justice on a more fraternal planet. Marie-Thérèse was a "grande dame" and a friend. Marie-Thérèse now rests alongside Bengt and their daughter Maruia in the small cemetery of Östra Tollstad near Norrköping in Sweden. In the parish house a showcase is dedicated to them.
ARAPO, [from the Tahitian ara (wake) and pō (night, darkness)] litterally means "one-who-wakes-all-night." PAPEHUE is the place in the district of Paea, on the island of Tahiti, where stood the Danielsson's house, on the ocean side, by a river of the same name. This house used to have a large library, which has now been transferred to the Kon Tiki Museum in Norway, numerous documents, which can be consulted at the Société des Etudes Océaniennes' office in Tahiti, plus a collection of paintings now entrusted to the Musée de Tahiti et des îles.
To keep the spirit of Papehue alive is thus to give free access through this virtual library, to the memory of the Danielssons and their own kind of "savoir-vivre."
Free books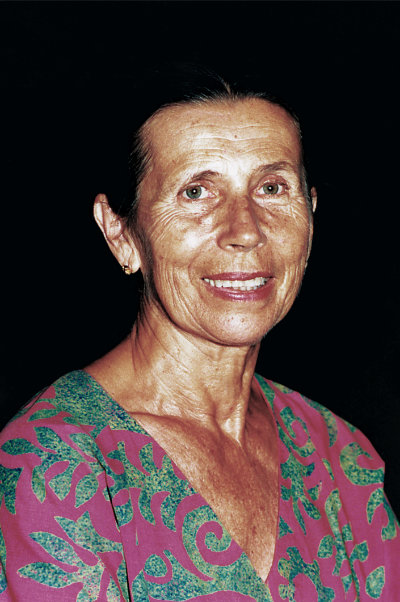 Marie-Thérèse Danielsson, born on October 18, 1924 in Remiremont in the Vosges, died on February 6, 2003 in Papeete on the island of Tahiti.